The Beaverbrooks 10k Fun Run is Back! The annual 10k Fun Run is in its 37th year and has raised thousands of pounds for many local charities.
Sunday 13 May at 11am
From the Savoy Hotel, Blackpool Promenade
This year it will be supporting Trinity Hospice, but you can complete the run for another charity that is close to your heart.
The Beaverbrooks 10k Fun Run is a must in all running diaries, from serious runners to those starting out or wanting to have fun with a group of friends. We love seeing runners in fancy dress as it makes the day even more fun!
The 10 kilometre run starts north of Gynn Square and goes down the Golden mile, past Blackpool Pleasure Beach before turning round and heading back up to the finish line.
Suitable for all, anyone from the age of 11 upwards can take part and there's a wheelchair category too, it's a 10k open to everyone!
All participants will receive a FREE multi-wear headband in addition to a commemorative medal.
Entry Fees
Adults: £10, Children: £8 (plus 50p postage)
We'll look forward to seeing you on the big day!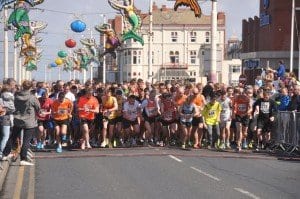 Find out More
Have a look at the Visit Fylde Coast website homepage for more of the latest updates.
If you love the Fylde Coast you ought to sign up for our weekly email newsletter. It's packed full of interesting things and will arrive in your inbox all 52 weeks of the year.
Sign up for the Visit Fylde Coast enews here
Join us on Facebook at our Visit Fylde Coast Facebook Group
Don't forget to follow us on Twitter @visitFyldeCoast